-my comp on itself after my bro re-on(wtf) the main switch after my house black out (raining... thunder...???)
-my comp cant go online d...( i did off my comp... T.T.. but why still liddet)

-i know how to do my moral test 2 ~~~ haha
-i didn't fail my TKS test XD ( yeapee~~)
-i like bio but whenever i open my bio revision book i'll feel sleepy and do other things instead of study bio.
-im hyper when im eating sweets... OMG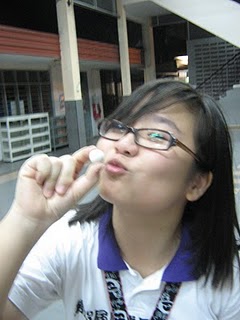 seee..... sampat rite....
---
this morning when i wake up... my house got no electricity....
have to mandi with cold water... and the best part was after i gau dim everything, everything back to normal, got electricity d... ish...
 saw lisa at arnd McD in SS15 and walk with her to college...
then moral test... MUAHHAHAHAA !!! gau dim~~~
dog ate can dog bad
and now those humans are having physics... im in the web.. blogging..(wtf) COS ME NO TAKE PHYSICS... !!!!!
and later those humans who are NOT taking bio got 3 hrs BREAK ARRRR~~~SO NICE~~~
i wonder how will it feel if i got this 3 hrs break.. 1ce larr... 1ce enuf... too bad gummy bear came today~~ HAHAH~ i saw him....