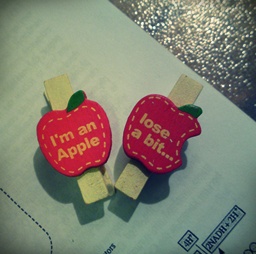 isnt this apple clip cute????? 
i bought it ytd evening =)
and yea, i bought it just becase it looks cute XD

btw, that darn concert is coming. 
and im so not in the mood to practise =(
settled the mozart sonata, but the brahms', i just can control my fingers =(
and its extremely depressing.
whenever i play that song, i feel like a man tao, pao with no feelings (lol)
and its so blardy fast

bio photosynthesis test is on tomorrow.
and again, im not in the mood to study again. 
its funny, i think that applies to most students. 
whenever i read, i feel that, owh its easy.
but the thing is. when it comes to questions, especially during tests or exams, i'll be extremely speechless, till that i dont even know wth should i write on that brilliant question/ paper.